Speakers

Dr. Tom Michaels
planted his Tennessee truffle orchard in 2000, and has since been written up in the New York Times, Gentlemen Quarterly, Garden and Gun, helped get Blackberry Farm's orchard off the ground, and can tell you everything you dreamed of knowing about the mysterious Tuber melanosporum.
---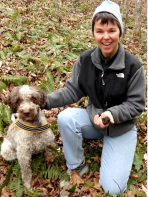 Lois Martin
is an instructor for the
Truffle Dog Company
and a certified training partner of the Karen Pryor Academy, which uses science-based, positive training methods. The Truffle Dog Company is a global source for online truffle dog training, native truffle sales, harvesting services for orchards, consultation services and in-person training for professional and recreational truffle dog teams.
---
Jane Morgan Smith

, owner of Keep Your Fork Farm,

is the recently retired executive director of the North American Truffle Growers' Association (NATGA), an organization working to make the U.S. a reliable source of truffles for worldwide consumers. She planted her own orchard in 2000, and has since produced a line of products including truffle butter, truffle salt and truffle honey. The first harvest at Jane's farm brought about a visit from Martha Stewart, who declared the truffles to be as fine as any she ever had.
Chefs

From the hills of West Virginia to the CIA in Hyde Park, NY to the Greenbriar Resort to the Low Country to Asheville,

Chef William Dissen

is a chef on the move. Owner and Executive Chef at the Market Place Restaurant since 2010 and a featured chef at the James Beard House and at several Outstanding in the Field dinners, as well as Seafood Watch Ambassador and Green Chef of the Year, William has been named one of America's most sustainable chefs, striving to create innovative farm-to-table cuisine utilizing ingredients and artisan products from within 100 miles of the restaurant. "There is no cuisine without gardens and farmers," says Chef Dissen. "We provide farm-fresh ingredients to entice our guests with simple, yet explosive flavors that enhance the experience of dining."
Educated at

Johnson & Wales University

and then the

Culinary Institute of Charleston

,

Chef Duane Fernandes

spent much of his early career polishing his abilities in the celebrated kitchens of Charleston's four-diamond

Peninsula Grill

and the five-diamond

Jefferson Hotel

in Richmond, VA. His blossoming career then led him to the kitchen of Thomas Keller's iconic Michelin 3-star

Per Se

in

New York. Following his reign at four-star

Horizons

Restaurant at the Grove Park Inn and

Gabrielle's

at the Richmond Hill Inn, Chef Fernandes now leads the culinary team at

Isa's Bistro.